Learn to glitter with us
Glitter Artist training
The perfect way to learn the basic skills to become a glitter artist 🦄
Glitter Artist Training Courses
Our Glitter Artist training course is the perfect way to learn a new skill or to give you the foundation to start out as as your own boss in the world of sparkle. Whether you're new to the world of glitter or are looking to add it to your range of services.
Learn just how amazing our biodegradable glitter is - Join the Eco Glitter Revolution with us! ✨

We offer both pre-arranged Glitter Artist training courses where you attend one of our locations and private courses where we travel to you to teach you all the glittery basics.
*A travel fee may be applicable to private courses*
🚨 All virtual glitter artist training dates are currently booked up- as soon as more dates become available we will update the website.
We are also working on something super exciting behind the scenes and we expect it to launch in the coming weeks so watch this space! 🚨
Glitter Artist training course
Pre-arranged
Attend one of our pre-arranged Glitter Artist training courses across London and beyond.
Glitter artist training course
Private
We can come to you for a private Glitter Artist training course.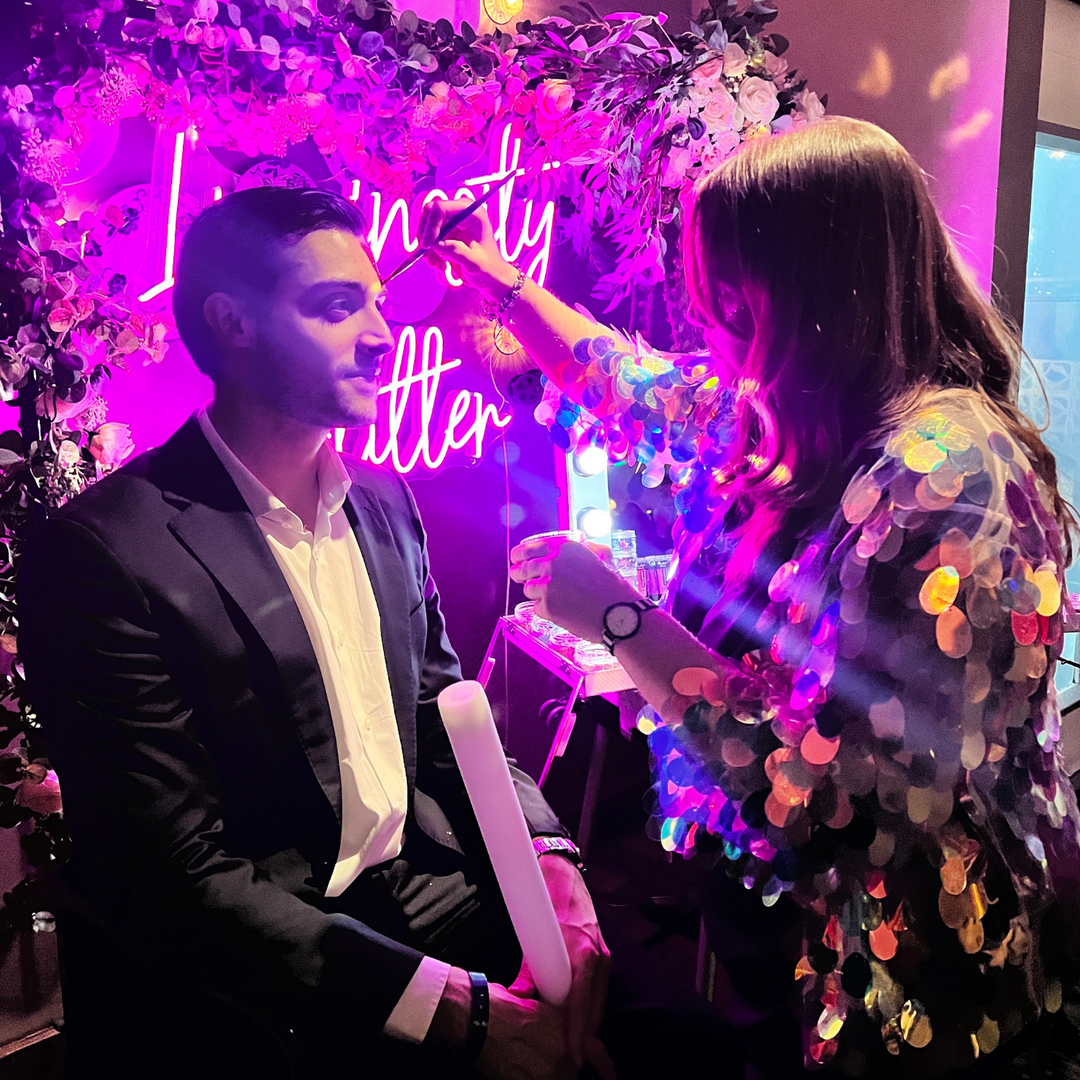 Glitter Artist
Training Course
A little more about our training courses:

★ A 2 hour training course designed to get you glittering right away,
★ Learn to do our most popular looks including glittering tips and tricks,
★ Learn all about the tools and products including what makes our glitter so special,
★ Basic Hygiene when working as a glitter artist,
★ Business guidance,
★ Certificate for attending our Glitter Artist training course,
★ The chance to purchase our Glitter Artist kit at a reduced rate and take home with you on the day,
★ Opportunity to join the Luminosity Glitter team glittering at events including festivals, launch nights and weddings.

Frequently Asked Questions
Our in person Glitter Artist workshops last around 2 hours
Your certificate will be presented to you at the end of your training course.
We will be running various Glitter Artist pre-arranged training courses throughout London, alternatively you can book us for a private class or sip and sparkle session where we travel to you.
After completing the course we can keep your details and will be in touch as soon as suitable events come up in your area but this is not guaranteed.
Of course! We have a discount for groups so please get in touch if there are more than one of you that would like to attend our Glitter Artist training course.
Of course! We bring plenty with us and there is a discount for purchasing when booking your course or on the day. You can also take it home with you to get glittering straight away.
We like to keep the classes small and intimate and numbers may vary but we try and stick to between 6-8 attendees on each course.