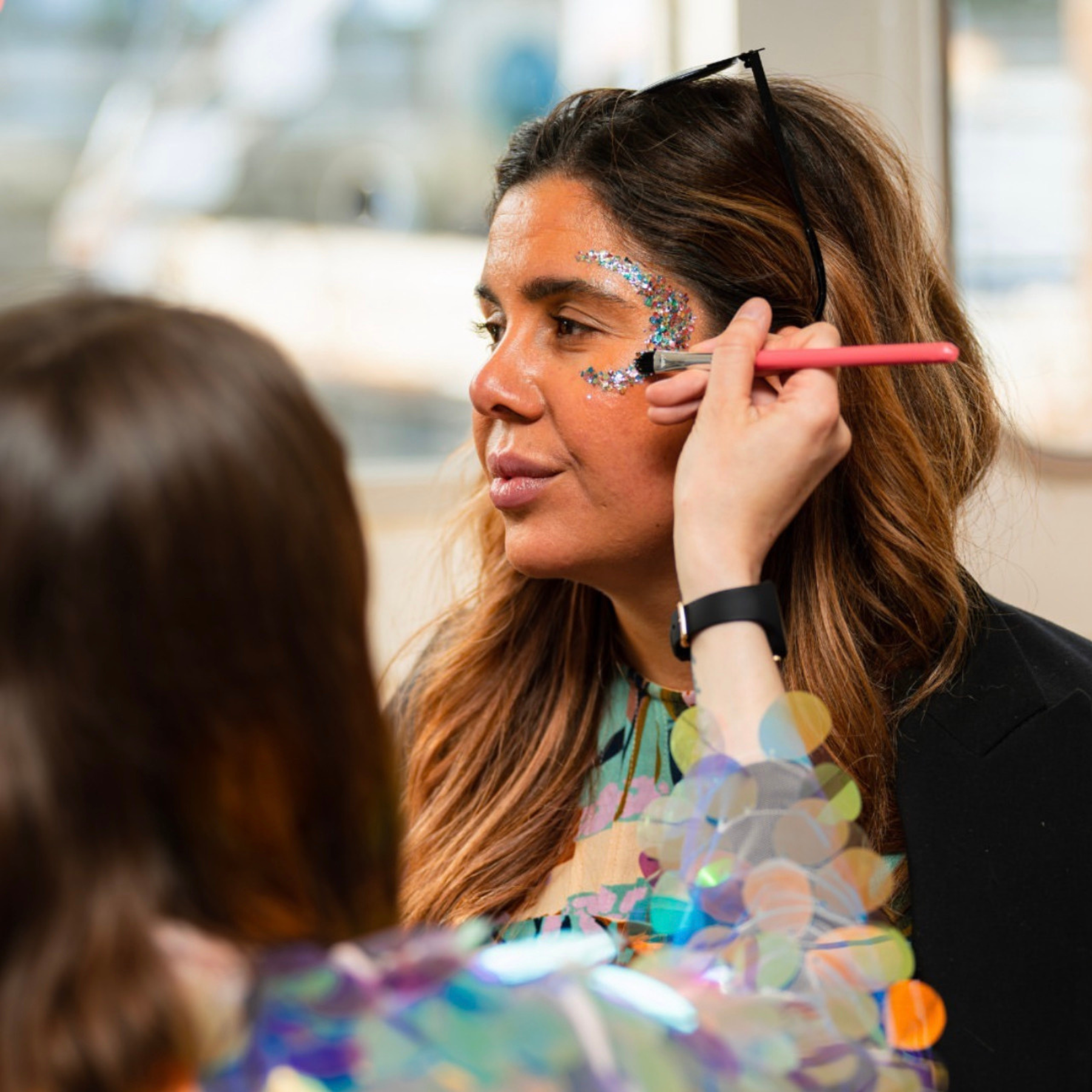 How to
Apply your glitter
Check out our guides on how to apply your eco glitter
How to apply glitter to your face and body
Welcome to our guide on how to apply glitter like a pro!
Whether you're gearing up for a special event, festival, or simply want to add some sparkle to your everyday look, we've got you covered.
In these tutorials, we'll walk you through the art of applying glitter to your hair, face, body, and more, ensuring that you shine and shimmer with confidence.
How to apply face glitter
Apply your fixative
Using a makeup brush or your fingertip, apply a thin, even layer of the fixative to the areas where you want to add the glitter.
You can use vaseline, our application gels or other cosmetic fixative.
Sparkle Sparkle
Dip the brush or your fingertip into the glitter, tap off any excess, and then apply it to the fixative in the desired areas. Use a patting or dabbing motion to ensure the glitter sticks to the fixative.

Once you've applied the glitter, allow it to set for a moment to ensure it adheres to the fixative. Avoid touching or rubbing the glitter while it's drying to prevent smudging.
Removal
Remember to remove the glitter makeup gently with a makeup remover, wipes or a mild soap and warm water when you're done. Enjoy your dazzling, glittery look!
Body and Hair Glitter
Hair Glitter
To apply glitter to your hair roots, first, part your hair where you want to add the glitter, then use a small makeup brush, toothbrush or your fingertip to gently pat hair gel onto the roots.
Then using the same method, dab or sprinkle the glitter onto your roots. Secure with hair spray for a longer lasting hold.

Body Glitter
Just like with applying face glitter, to apply body glitter, first, use a body lotion or gel as a base for the glitter. Then, lightly dust or dab the glitter onto the desired areas of your skin using a brush or your fingertips, ensuring an even sparkle, as subtle or as bold as you'd like.
Beard Glitter
Take a small amount of beard oil or fixative gel and apply it evenly throughout your beard using your fingers or a toothbrush.
Pour some of the glitter into a dish and dip the toothbrush into the glitter. Then apply to your beard using dabbing and brushing strokes.
Keep applying more glitter to get the desired look and effect.
Let's talk fixatives
When it comes to applying glitter to your face, body, and hair, there are several cosmetic fixatives to choose from, each offering distinct advantages.

Aloe Vera Gel:
Aloe vera gel is an excellent option for body and face applications. It not only offers a gentle adhesive for the glitter but also provides moisturising and soothing benefits for your skin.
Shop Aloe Vera Gel Here

Glitter Fix Gel:
For those seeking specialised glitter adhesion, products like Paint Glow Glitter Fix Gel are designed specifically for glitter applications. These gels offer superior adhesion and long-lasting sparkle, ensuring
Shop Glitter Fix Gel Here

Hair Gel:
Hair gel is ideal for applying glitter to the hair and beard because it provides a strong, flexible hold that keeps the glitter in place while allowing for easy styling and creating dazzling, long-lasting effects.
Hair Spray:
Hair spray is a common choice for adding glitter to your hair. It provides a firm hold, helping the glitter stay in place, and can be easily combed or washed out when you're done.
your glitter look remains flawless throughout the day or night. Choose the fixative that suits your desired look and occasion, and let your inner sparkle shine.