JOIN THE ECO GLITTER REVOLUTION
Luxury Eco Glitter Bar Hire
Why not add some sustainable sparkle magic to your event by hiring our luxury eco glitter bar.
We only stock biodegradable glitter, always have and always will!

★ Corporate Events ★ Launch & Brand Events ★ Festivals ★ Weddings

Our glitter bar hire packages are designed to bring some serious magic to your big day. Whether you need a few extra artists to amp up the fun or want to keep the glitter flowing all day long it done!

We are currently only taking bookings up until 1st May 2024.
For Summer 2024 dates we can take your details and let you know as soon as we open our diary.
Hire Us
Eco Glitter Bar
Adding sustainable sparkle to your event with our luxury glitter bar
Our Full Glitz Package
includes
💖 Our luxury pop up glitter bar with light-up Hollywood mirror
✨ A stunning selection of over 40 of our biodegradable glitters which can be tailored to your theme

🪩 Choice of floral backdrop frame with our hot pink neon sign or one of our luxury sequin walls (ultimate butterfly not included)

🎨 Face and body paints to enhance your glittery look

💟 A selection of reusable face gems

🖌️ Brushes and a variety of cosmetic fixatives including our natural aloe vera application gel

👩‍🎨 Fully insured and experienced glitter artists,

🌺 Our looks inspiration easel,
🎉 Bespoke packages for all occasions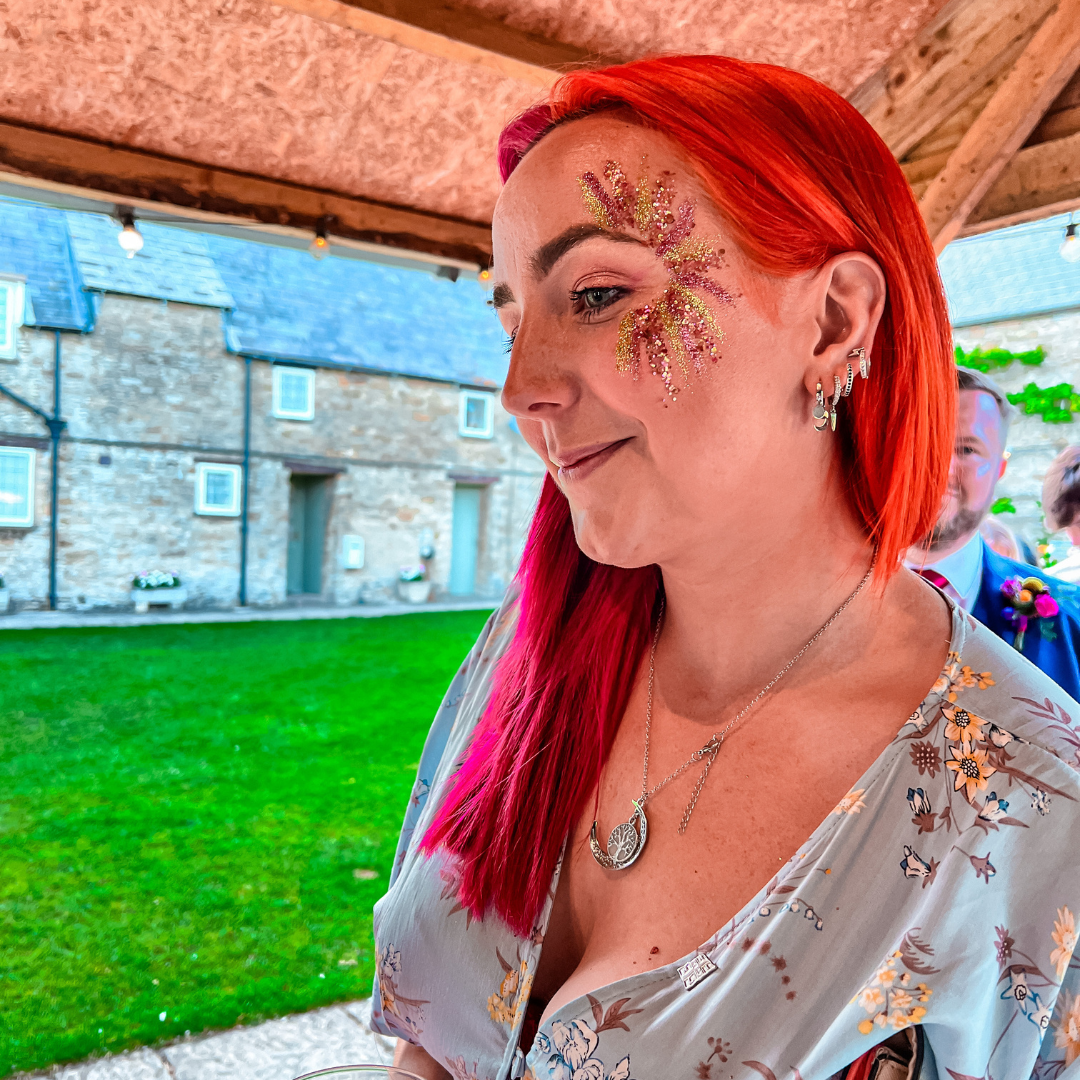 London based Eco Glitter Bar
We cover London, Surrey, Sussex and Berkshire.
Please get in touch to discuss if your event is further afield.
Our minimum glitter bar hire time is 2 hours for the Mini and Essential Glitz packages and 3 hours for the Full Glitz package.
A travel fee may apply to your booking. Please note package availability may vary.

✈️ We're also available for destination events, from the alps to the desert and everywhere in between! ✈️
Some of our past events
London Boat Party
We embarked on a river boat cruise up and down the iconic River Thames, setting the stage for an unforgettable corporate gathering. As the city's iconic landmarks glimmered in the twilight, our talented glitter artists dazzled the guests on board.
De Vere Beaumont
At the stunning De Vere Beaumont Estate in Windsor, Luminosity Glitter brought the sparkle magic to a corporate event. As the sun set over the elegant grounds, our glitter bar transformed guests into shimmering stars of the evening.
Wembley Arena
Luminosity Glitter sparkled with a team of glitter artists at Wembley Arena when they hosted a glitter bar for OVO Energy's summer party. The event was a spectacular fusion of energy and glamour.