The Bioglitter Pure Range
Bioglitter Pure
★ 100% plastic and aluminium free,
★ Suitable for vegetarians,
★ Allergen and GMO free,
★ Certified OK Biodegradable WATER by TÜV AustriaBiodegrades quickly in a natural environment.
★ Ethically and sustainably sourced raw materials,
★ Natural coating and special cellulose core derived from hardwoods, primarily eucalyptus, sustainably sourced from responsibly managed and certified plantations operating to PEFC™ standards,
★ Only available in hexagonal shape,
★ Pure Opal is the world's first 100% plastic free iridescent glitter.
What to look out for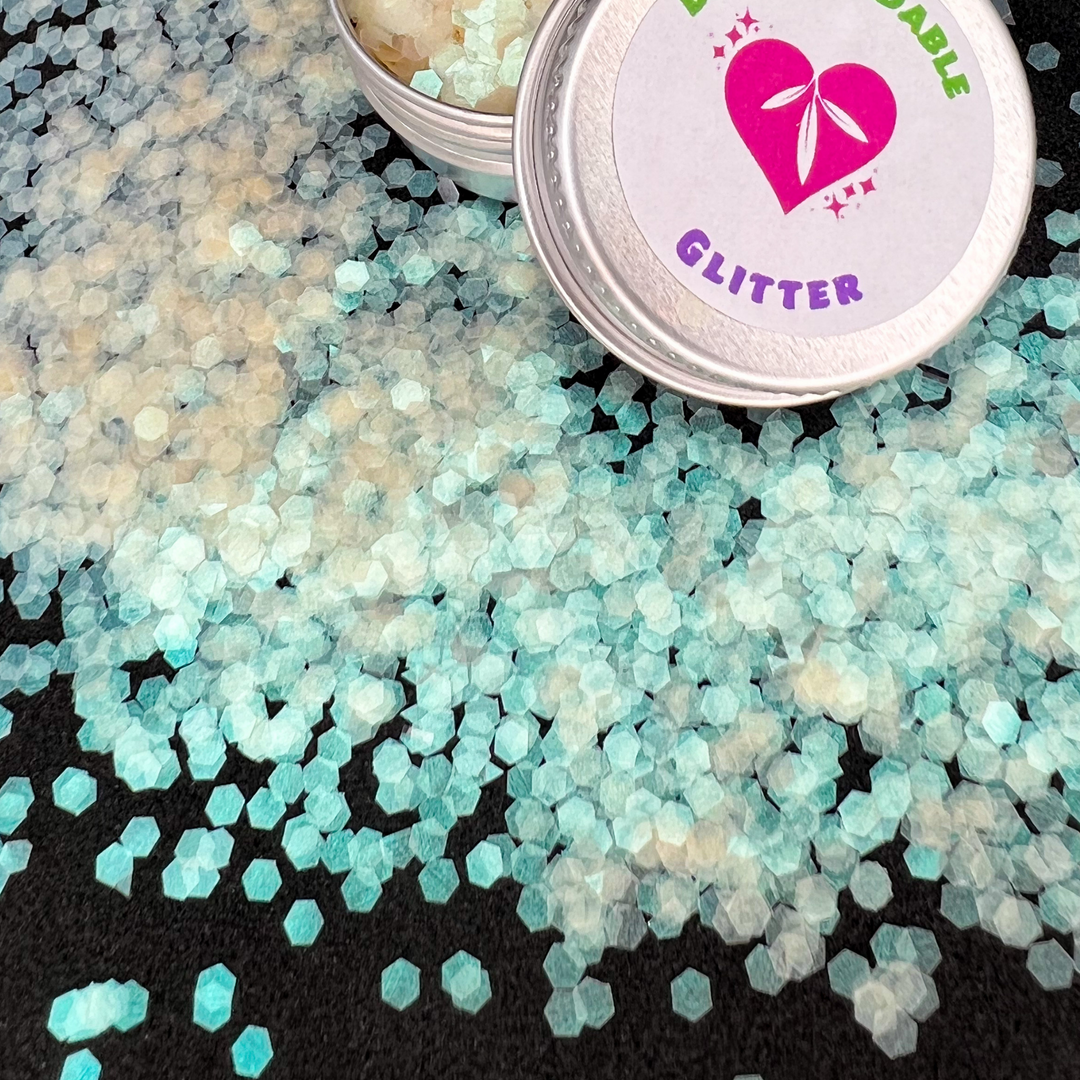 Pure Opal
Bioglitter® Pure Opal is the world's first 100% plastic free iridescent glitter.
Genuine Bioglitter® isn't currently available in holographic.
Shop Pure Opal Range
Lighter Shades
Bioglitter® Pure comes in lighter colour shades than the sparkle range. With a subtle shimmer, this range is great for soap making and adding some subtle sparkle to your look.
Learn more
Look out for the Bioglitter® Logo
To ensure you're purchasing genuine Bioglitter® always look out for the logo. If you're still not sure, the Bioglitter® website has a list of it's licensed resellers which you can check. We've popped the link below.
Bioglitter Resellers
Bioglitter Pure Ingredients
Rayon (Cellulose Regenerated), Glycerin (Plant Derived), Aqua, Urea, Shellac, [+/- Mica, Synthetic Fluorphlogopite,
Titanium Dioxide (CI: 77891), Iron Oxide (CI: 77489), Ferric Ammonium Ferrocyanide (CI: 77510), Tin Oxide (CI: 77861).
Bioglitter Pure & Pure Opal contain shellac which is not vegan friendly. 
Approved by The Vegetarian Society, the shellac is produced from the secreted resin left behind on bark by the female lac insect.
This is a natural and environmentally friendly process and no insects are harmed in this.
However, this does mean Bioglitter pure and Pure Opal ranges are not vegan friendly.