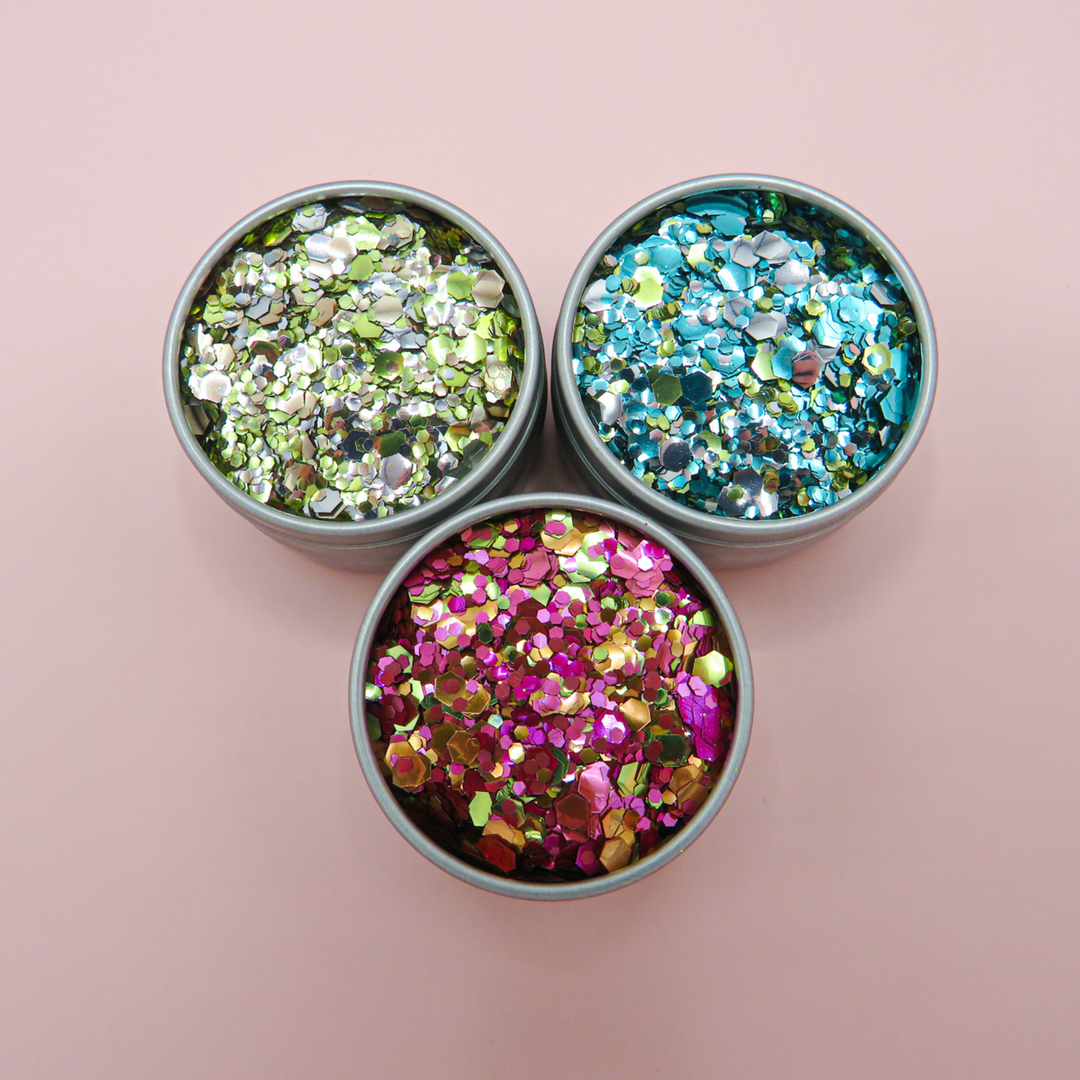 Tropic Like It's Hot Eco Glitter Set
Regular price
$23.00
/
Tax included.
Shipping
calculated at checkout.
---
Luminosity Glitter Tropic Like It's Hot Biodegradable Glitter Set 
92% plastic free glitter with bold colour and super shine✨

💖 The Tropic set comes with an aloe vera gel and hot pink wooden makeup brush to get you sparkling straight away.💖

💧Independently tested by OWS Belgium to ISO14851 / ISO1852 fresh water biodegradability. 
🌱This glitter is proven to biodegrade highly in a natural environment in a matter of weeks. 
🌈A stunning range with a stunning, bold sparkle. 

 
Details: 
★ 3 x 6gpots of eco glitter blends
- Cleopatra Blend
- Diva Blend
- Pineapple Kisses Blend
★ 1 x 10ml pot of aloe vera gel
★ 1 x hot pink wooden makeup brush
★ Bold and sparkly biodegradable cosmetic glitter 
★ These sparkly beauties are made from The Bioglitter™ Sparkle Range 
★ That means they are suitable for vegans and vegetarians 
 
About Bioglitter™ Sparkle: 
➔ 92% Plastic free 
➔ Bold colour and high shine 
➔ Biodegrades highly in a natural environment in around 4 weeks 
➔ Plant based; made primarily from eucalyptus 
➔ Cruelty free – never tested on animals or unicorns 
➔ Softer on the skin compared to traditional glitter 
➔ Only available in hexagon shape 
➔ Vegan + vegetarian friendly – not to be consumed 
 
Luminosity Glitter is plant based and made from Bioglitter™  
All types of Bioglitter™ are made using ethically and sustainable sourced raw materials; primarily eucalyptus from responsibly managed plantations operating to PEFC™ standards. 
Our eco-friendly glitter is cosmetic grade and suitable for face, body, hair, nails and crafts. 
 
Our glitter has been specially selected, blended and potted with love, in London.  
We stock individual sizes of our biodegradable glitter for all of your glittery needs.  
 
Eco Glitter Sizing: 
Micro Fine (006 Hex) 
Fine (008 Hex)  
Standard (015 Hex) 
Chunky (040 Hex)  
Ultra-Chunky (094 Hex)  
Pot Selection:  
We offer a variety of ways to purchase your sparkle.   
• 5ml/3g Plastic pots • Refillable • Recyclable    
• 10ml/6g Aluminium pots with recyclable PET window lid • Refillable • Recyclable    
• Refill bags • Recyclable • Biodegradable     
All weights are approximate 
 
JOIN THE ECO GLITTER REVOLUTION™
We recommend using our Aloe Vera Gel for a cooling cosmetic fixative for our glitter on your face and body.

Our reusable face gems need a stronger fixative after the first use, we recommend the Glitter Fix Gel.
To apply to your hair use a hair gel and finish with a spritz of hairspray.
All orders are sent out in eco mailers or recyclable cardboard boxes with plastic free tape.
Shipping upgrades may be available at checkout depending on location.
Some stronger shades of Bioglitter® can leave a temporary colour transfer on your skin. This is normal for genuine biodegradable glitter as it's not been coated in plastic like traditional glitter.

If you want to avoid this, strong shades such as blue, turquoise and green are generally the cheeky ones to avoid.

It can also help reduce some colour transfer to apply with a non-water based fixative.